WE CHAMPION, CONNECT,
SUPPORT & INVEST IN
CREATIVE PEOPLE &
BUSINESSES.
WE CHAMPION, CONNECT,
SUPPORT & INVEST IN
CREATIVE PEOPLE &
BUSINESSES.
The Grenada Office of Creative Affairs is a division of the Ministry of Planning and Economic Development. Our mandate is to create a favorable environment for the development of Grenada's cultural and creative industries.
The Office of Creative Affairs is responsible for developing policies and legislation for the development of the creative industries. We work to facilitate linkages between the Creative industries and other sectors and to provide concessions and other economic incentives for the Creative industries.
We also raise awareness about Creative Industries, build the capacity of creative entrepreneurs through training programs, seminars, and other activities, and establish and manage a creative industry registry and business networking platforms.
In addition, we create funding opportunities and promote information about existing funding opportunities for the creative industries, support the export of creative goods, and encourage the internationalization of the sector. We also support ongoing research activities in the Creative Industries.
BECOME A REGISTERED
CREATIVE TODAY
Are you a creative practitioner or organization based in Grenada? Registering with the Grenada office of creative affairs can offer numerous benefits to help you grow and succeed in your creative endeavors. By becoming a certified creative practitioner or organization, you gain access to government incentives that can help fund your projects and support your development. You'll also have access to specialized training to help you enhance your skills and stay up to date with the latest industry trends. Additionally, you'll receive valuable information about funding opportunities and other resources to help you take your creative work to the next level.
Registering with our office also allows you to list your business and services on our online directory, making it easier for potential clients and collaborators to find and connect with you. Don't miss out on these valuable benefits – register with us today and take your creative career to new heights!
PROVIDING SUPPORT TO
OUR CREATIVE INDUSTRY
We support creative business, individuals and organizations through training, incentives
and business support
Publication and
Opportunities
On September 12, 2022, Glenda N. Cox won a Primetime Emmy for her work as Executive Producer on Lizzo's Watch Out For the Big Grrrls which won Best Competition Series. The win was historic as it was produced by an all-female team and beat out Ru Paul's Drag Race which has won in excess of ten Emmys. Glenda is the first Grenadian to win a Primetime Emmy.  The series has since gone on to win countless awards in the 2023 season which gave Glenda another first — an NAACP Award and the prestigious Producers Guild Award.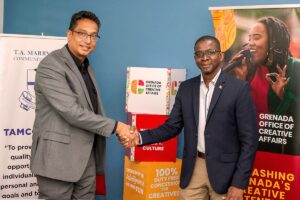 St. George: September 5, 2023: An agreement has been signed between the Grenada Office of Creative Affairs in the Ministry of Economic Development, Planning, Tourism,
Learn More »
The Grenada Office of Creative Affairs is proud to announce the appointment of Mrs. Tracy Baptiste as the new Operations Manager, reinforcing its commitment to enhancing implementation capacity and driving excellence in the creative sector.
Learn More »
Grenada to host the first-ever National Cultural and Creative Industries Conference, Unleash, from May 10 – 12, 2023 The Grenada Office of Creative Affairs is
Learn More »
SIGN UP FOR
CREATIVE
OPPORTUNITIES.